Storm and Flooding on September 10, 2020
After Action Report
DC Water conducted a thorough study of the flash flooding event that impacted numerous residents on September 10, 2020. Our Report on the storm is now available, including a rainfall analysis, assessment of the sewer system's performance, and an Improvement Plan to mitigate and manage the impacts of future storms.
The Storm
On Thursday, September 10, 2020, a surprisingly intense storm dumped almost three inches of stormwater on the District in a two hour period. The impact on the city's sewer infrastructure was immediate. Sewer and stormwater pumps throughout the system were pushed to their maximum pumping limit and within 25 minutes the new Anacostia Tunnel System filled to capacity (100 million gallons). The flow to the Blue Plains plant spiked and our new wet weather treatment facility was pressed into service. It too quickly reached capacity.
In the heart of the city, the existing sewers performed as designed but simply could not handle the amount of stormwater generated by the storm. Even the First Street Tunnel, which was built to mitigate historic flooding issues in Bloomingdale and LeDroit Park and can hold up to 8 million gallons of stormwater, filled to the top and overflowed.
Resources for Residents
DC Water partnered with the District Government to provide assistance and resources for residents impacted by the flooding. That included Emergency Clean-up Relief for residents who needed immediate assistance to dewater their properties, and an expansion of our Backwater Valve Rebate Program to help protect customers in future storms.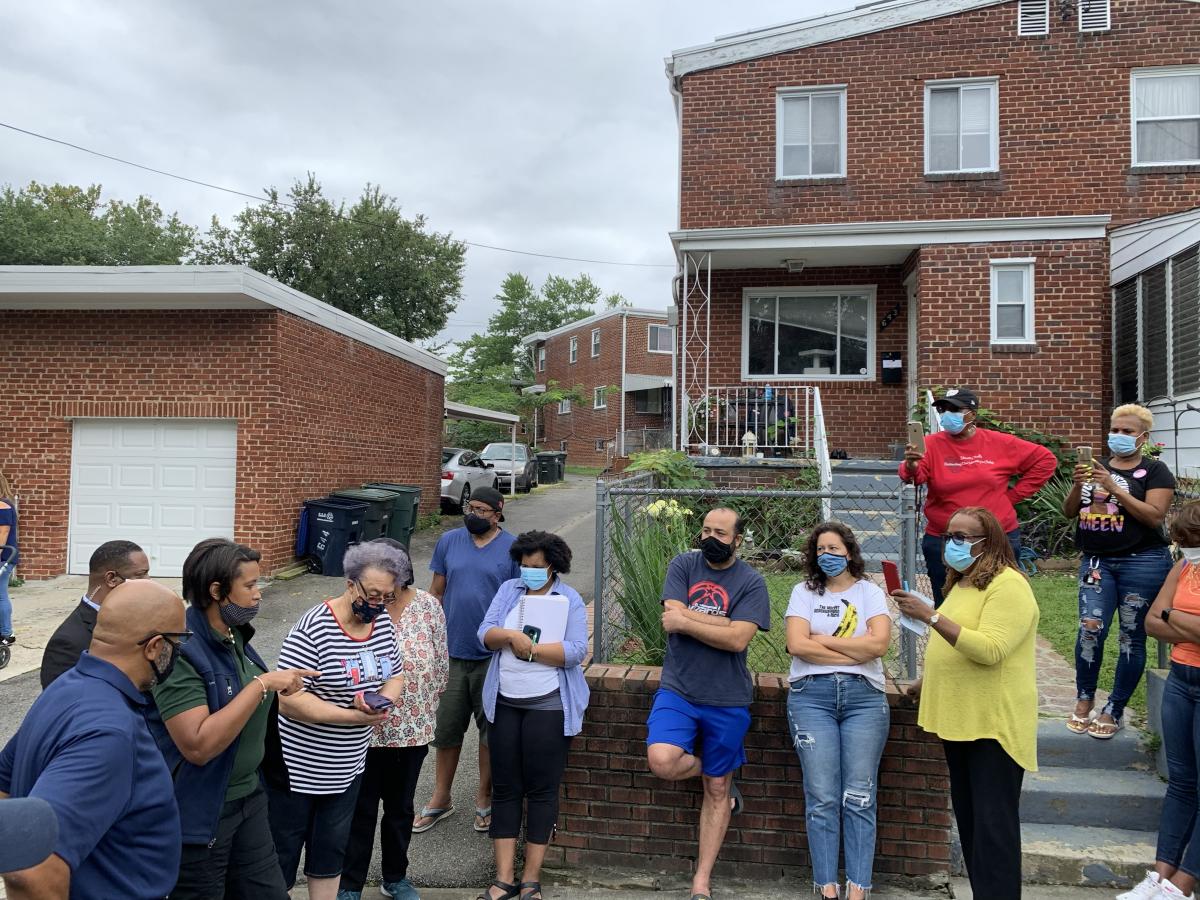 Immediate Response
On Saturday, September 12, CEO and General Manager David L. Gadis joined Mayor Bowser for a tour of some of the hardest hit neighborhoods and met with residents who were impacted by the flooding and suffered damage to their properties. Mr. Gadis immediately pledged to expand DC Water's Backwater Valve Rebate Program that was previously offered to residents of Bloomingdale and LeDroit Park. For more information about the expansion of the program and how to apply, click here.
Community Town Hall
Mr. Gadis met with residents again in a Virtual Town Hall meeting on Wednesday, September 16. Thank you to everyone who participated.
To see the presentation from the meeting, click here.
DC Water recognizes significant hardships experienced by DC residents because of the unexpected flooding event.
The Authority's Board of Directors committed $1.5 million for clean-up assistance for those who needed immediate relief to dewater their property.
Claims
DC Water's insurance administrator reviewed and processed claims received related to the flooding on September 10.
For more information about the claims process, please visit dcwater.com/claims.
Answers to some of the most commonly asked questions are posted here. 
The District Department of Insurance, Securities and Banking (DISB) has insurance tips and other useful information on its website at www.disb.dc.gov. Residents may also contact DISB at floodcomplaints@dc.gov or by calling (202) 442-7828. Below are some links to more information about insurance:
Insurance tips for homeowners and renters
Hidden Benefits of your homeowners insurance policy
It is important to maintain your homeowners insurance
DISB Consumer Guide: Flood insurance
Five reminders about your insurance coverage
After Storm Sandy, five reminders about your insurance coverage
A Historic Problem
The District inherited a very old system from the federal government and DC Water is working to modernize and expand the sewer and pump station infrastructure every year. The greatest investment is the Clean Rivers Project which is steadily reducing flooding incidents and combined sewer overflows to the Anacostia and Potomac Rivers and Rock Creek. As additional tunnels come on line in 2023 and 2030 there should be even more reduction in overflows and flooding. The First Street Tunnel in Bloomingdale and the lower leg of the Anacostia Tunnel are both in operation and are functioning as overflow storage during heavy rains. For example, the Anacostia tunnel can hold more than 100 million gallons of sewage and stormwater and the First Street tunnel can hold 8 million gallons. Again, both tunnels filled to capacity during the September 10 storm.
Currently, DC Water is building the Northeast Boundary Tunnel which will add 90 million of additional capacity for combined sewage. The NEBT will help reduce overflows to the Anacostia River and provide additional flooding relief for low-lying neighborhoods. When it is completed in 2023 the tunnel will bring the capacity of the system up to a 15 year storm. Please click on the links for more information about the NEBT and the Clean Rivers Project.
Despite the added capacity of the tunnels, it is important to note that flooding is still possible in very heavy rainstorms and homeowners should consider purchasing flood insurance.