Customer Assistance Programs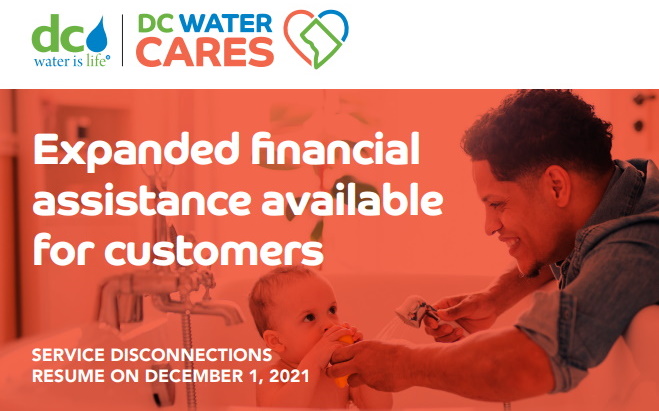 DC Water has a long history of lending a helping hand to customers in financial need who are having trouble paying their water bills. Now, we know the need is even greater due to the economic toll of the coronavirus pandemic. In response, we have launched DC Water Cares, a new program to assist customers who have fallen behind. In addition, we are now offering emergency assistance to people who rent in multi-family buildings.
The bottom line is, if you are struggling to pay your bills, we want to help. Give us a call to discuss your options. The available programs include:
Emergency Relief
In early 2021, the DC Water Board of Directors approved a new program intended to supplement assistance for residential customers who have fallen behind on their bills during the coronavirus (COVID-19) public health emergency. It provides up to $2,000 to help a customer eliminate their past due balance, provided they are income eligible. 
This program uses DC Water funds to extend the emergency residential relief program funded in 2020 by the District Government, under the leadership of Mayor Muriel Bowser. Eligible households who received assistance under the District's program, may qualify for additional assistance from DC Water under this new program.
Monthly Discounts
In addition to the emergency relief mentioned above, eligible households will receive one of the following discounts:
Customer Assistance Program (CAP) provides a discount on the first 400 cubic feet (3,000 gallons) of water and sewer services used each month. Eligible households will receive a 75 percent reduction in the monthly CRIAC fee and a Water Service Replacement Fee waiver. The monthly discount is approximately $80 a month.
 
 Customer Assistance Program II (CAP2) provides a discount on the first 300 cubic feet (2,250 gallons) of water and sewer services used each month (with the exception of PILOT and ROW fees) and a 50 percent reduction in the monthly CRIAC fee. The monthly discount is approximately $52 a month.
 
Customer Assistance Program III (CAP3) provides a discount of 75 percent off of the monthly CRIAC. The monthly discount is approximately $14 a month.
Income Guidelines for FY 2022 (October 1, 2021 - September 30, 2022)
The table below provides the dollar figures for each program's income limits by household size:
Water Bill Relief Income Limits
(October 2021- September 2022)

Household Size

CAP 1

CAP 2

CAP 3

1

$42,920

$72,250

$90,300

2

$56,126

$82,600

$103,200

3

$69,332

$92,900

$116,100

4

$82,538

$103,200

$129,000

5

$95,744

$113,550

$139,300

6

$108,950

$123,850

$146,600

7

$111,426

$134,200

$160,000

8

$113,902

$144,500

$170,300

 
How do I apply for CRIAC Assistance?
There are three ways to apply:
Online Application
Email your application and documentation to criac.residential@dc.gov
Mail your application to DOEE, Attn: CRIAC Residential Relief Program, 1200 First Street NE, 5th Floor, Washington DC 20002
What documents do I need to apply?
To apply, pictures or scans of the following documents are required:
Recent proof of income (pay stub, Social Security statement, proof of termination or unemployment, etc.)
Government-issued, photo identification (license, passport, etc.)
Recent DC Water bill
If the DC Water bill is not in a household member's name, you must include proof of property ownership or a lease agreement indicating proof of responsibility for water charges
Complete and signed CRIAC Residential Relief Application
Who should I contact if I have questions?
Call (202) 350-9649 or email criac.residential@dc.gov
The above video shows how easy it is to apply for assistance.
Multifamily Assistance
DC Water's new Multifamily Assistance Program allows us to assist people who don't directly pay water bills, but who nevertheless may be struggling due to the pandemic. This includes District residents who rent in multi-family buildings, like apartments or low-income condominium associations. Because their water charges are part of their rent, or HOA dues, they've never been able to receive a discount from DC Water.
But under the new program, DC Water will provide discounts to owners to pass along to those tenants whose incomes qualifies them for the help. It is one of a few programs in the nation designed to aid customers who do not pay their water and sewer bills directly.
For more information and details on how to apply, click here.
Nonprofit Relief 
The CRIAC Nonprofit Relief Program is in place to assist eligible nonprofit organizations facing financial hardship with the payment of their Clean Rivers Impervious Area Charge (CRIAC). Participants can receive credits of up to 90% of the CRIAC portion of their water bill.
DOEE determines eligibility, and non-profit organizations must meet all three criteria: 
Be a nonprofit in the District of Columbia with a real property or possessory interest tax exemption as a local charitable organization, a cemetery, a religious house-of worship; or a continuing care facility (as determined by the District's Office of Tax and Revenue).
 
Demonstrate financial hardship in paying the CRIAC. Organizations must demonstrate that their annual CRIAC is 1% or greater than their annual revenue, after expenses. Applicants must submit their IRS form 990 or provide information consistent with the filing requirements of an IRS form 990, as applicable.
 
Complete a stormwater mitigation project to help diminish the harmful effects of stormwater runoff by installing green infrastructure on their property or elsewhere in the District.
For more information, and to apply, please visit CRIAC Nonprofit Relief Application or call 311. The CRIAC Nonprofit Relief Program is funded by the District Government.
Other Bill Assistance Programs and Resources
Extended Payment Plans - During the COVID-19 pandemic, please email Customer Service at credit.collection@dcwater.com for more details about extended payment plan options.
SPLASH (Serving People by Lending A Supporting Hand) - SPLASH is a DC Water program that helps customers maintain critical water and sewer service in times of financial emergencies. SPLASH is administered by the Greater Washington Urban League. For information on getting assistance call the GWUL offices during business hours Mon-Fri 9 AM – 5 PM at 202.265.8200.

SPLASH is funded solely by contributions from our employees, customers, and the community, and every dollar we receive is distributed to eligible customers.