Traffic Advisory: Rhode Island Avenue NE Upcoming Traffic Pattern Change
April 07, 2021
On or about April 12, 2021, DC Water contractors will begin mobilizing a construction site on Rhode Island Avenue NE in the median area, extending from Reed Street NE to the entrance of Forman Mills parking lot. The construction site will occupy the middle two lanes and will be surrounded by a temporary concrete barrier and fence for safety. Traffic will flow around the median area work zone in two lanes traveling in each direction. Left turns will not be permitted from eastbound Rhode Island Avenue NE onto Reed Street NE and 10th Street NE. 
During this traffic phase, the work hours are from 7:00 AM to 7:00 PM. The construction staging area will remain in place for the duration of the work which is expected to be completed near the end of 2021.
This work is a part of the Northeast Boundary Tunnel Project's construction site located on Rhode Island Ave NE near the 8th Place NE intersection.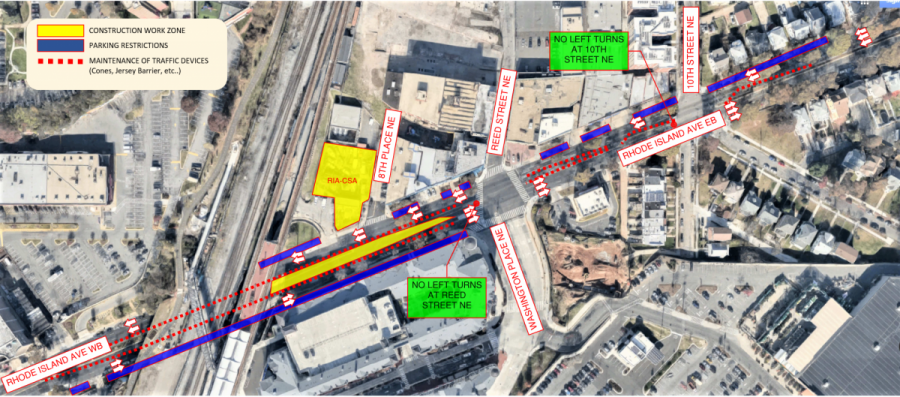 Travel and Parking Restrictions
•    Travel is reduced to two lanes in each direction of Rhode Island Avenue NE between 12th Street NE and the entrance of the Forman Mills.
•    8th Place NE will remain closed to traffic.
•    No left turns from Rhode Island Avenue NE onto Reed Street NE or 10th Street NE. Motorists may use 12th Street NE to Franklin Avenue NE as a detour to Reed Street NE.
•    Parking restrictions are in place on each side of Rhode Island Avenue between 12th Street NE and extending just beyond the WMATA Rhode Island Avenue -Brentwood Metro Station bridge.
•    Bus stops #1001797 (westbound) and #1001790 (eastbound) have been relocated to the west of the worksite before the WMATA Rhode Island Avenue -Brentwood Metro Station bridge.
Additional Information 
•    People who live or work near the affected locations will notice additional construction equipment and personnel as well as noise associated with construction activities.
•    Commuters and pedestrians will notice road signs and/or flagging personnel directing them safely around the worksite.
•    Parking restrictions will be in place. Please do not park in the temporary No Parking areas. When the work is complete, the signs will be removed. 
Project Details
The Northeast Boundary Tunnel (NEBT) is the largest component of the Clean Rivers Project. It begins south of RFK Stadium and will extend north to Rhode Island Avenue NE and west to 6th Street NW. Once the NEBT is connected to the Anacostia River Tunnel and the First Street Tunnel, combined sewer overflows to the Anacostia River will be reduced by 98 percent. In addition to controlling combined sewer overflows, the Northeast Boundary Tunnel will reduce the chance of flooding in the areas it serves to a 7 percent chance in any given year.
For more information, please contact:
Email: dccleanrivers@dcwater.com
24/7 NEBT Hotline: (800) 988-6151
Northeast Boundary Tunnel Project Website: dcwater.com/NEBT