Traffic Advisory - Tunnel Boring Machine Parts to be Transported through the District
May 06, 2021
(Washington, DC) -- Chris the Tunnel Boring Machine (TBM) completed excavating the Northeast Boundary Tunnel and will be disassembled and brought to the surface. Approximately 20 pieces must be transported via flatbed trucks from the drop shaft at 6th and R Streets, NW to the DC Water construction site near RFK Stadium. 
Three pieces of the TBM will be removed and hauled this week. The removals will occur on or about May 6, May 7, and May 10, 2021, between 11 pm and 3 am. The parts will be hauled on a flatbed trucks and escorted by vehicles and flaggers to help navigate turns, if necessary. Short duration road closures will occur along the haul route and temporary detour routes will be in effect until the truck passes.
Road Closures
•    R Street, NW will remain closed between 6th Street and Rhode Island Avenue.
•    6th Street, NW will be closed between Q Street and Rhode Island Avenue.
•    Rhode Island Avenue, NW will be closed between 7th Street and 6th Street.
Detours
Please follow the detour signage associated with each road closure. Once the transport truck has been loaded, the contractor will reopen the travel lanes along Rhode Island Avenue and along 6th Street, NW. R Street, NW will remain closed, except for the bike lane.
Haul Route
The truck route begins at the R Street construction site at Rhode Island Avenue, NW near 6th Street, NW, heads south on Florida Avenue, NW to New York Avenue, NE. The trucks will merge onto I-295, exit on East Capitol Street, SE and stop at the project construction site near parking lot 8 of RFK Stadium.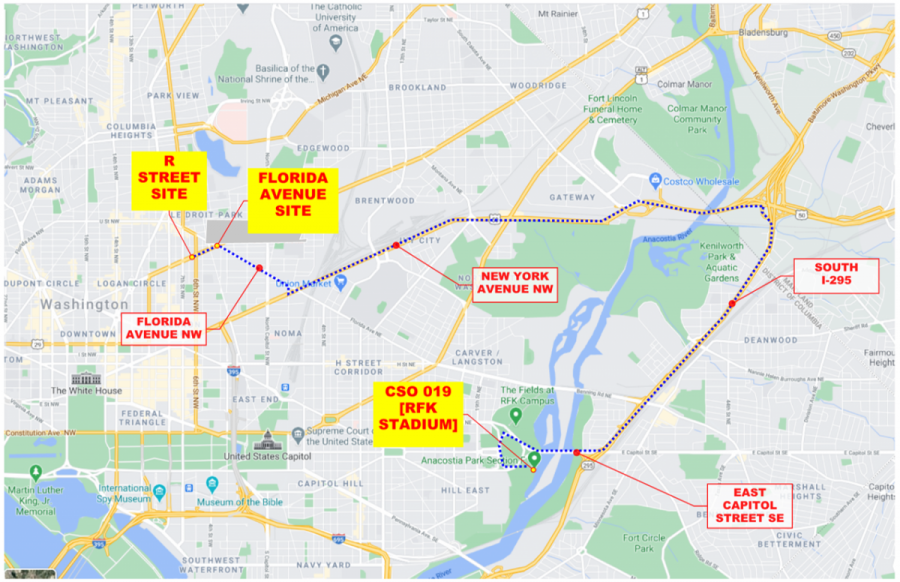 Project Details
The Northeast Boundary Tunnel (NEBT) is the largest component of the Clean Rivers Project. It begins south of RFK Stadium and extends north to Rhode Island Avenue NE and west to 6th Street NW. The tunnel was excavated by "Chris" the tunnel boring machine (TBM). Its five-mile journey began in 2018 at the CSO 019 construction site located south of the RFK Stadium. It reached its destination in the Shaw neighborhood on April 2021.  Once the NEBT is connected to the other Clean Rivers tunnels, combined sewer overflows to the Anacostia River will be reduced by 98 percent. In addition to controlling combined sewer overflows, the construction of the Northeast Boundary Tunnel will reduce the chance of flooding in the areas it serves from approximately 50 to 7 percent in any given year.
For more information, please contact
Email: dccleanrivers@dcwater.com
24/7 NEBT Hotline: (800) 988-6151
Northeast Boundary Tunnel Project Website: dcwater.com/NEBT