Sewer Rehabilitation Project - Soapstone Valley Park
Overview
DC Water is performing sewer rehabilitation projects throughout the city as part of its Capital Improvement Program (CIP). The proposed Soapstone Valley Park Sewer Rehabilitation project would involve the rehabilitation of sewers from Albemarle Street, NW to Broad Branch Road, NW. Benefits of this project would include the rehabilitation of an aging sewer system, improved structural integrity while maintaining adequate hydraulic capacity, and the reduction of stream and groundwater infiltration and potential sanitary sewer overflows.
Proposed Scope of Work
Approximately 6,200 linear feet of defective sanitary sewer pipe would be addressed
Twenty-two defective manholes would be addressed
Asset protection would be completed
One Municipal Separate Storm Sewer System (MS4) outlet would be repaired and a second MS4 would be extended
Schedule
Draft NEPA document & Statement of Findings (SOF) Submitted to National Park Service (NPS), 2015 
Revised Draft NEPA document submitted to NPS, August 2016
Revised Draft SOF submitted to NPS, June 2018
Revised Draft NEPA document will be submitted to NPS following SOF approval
SOF was approved, June 2018
DC Water reviewed Draft NEPA document, November 2018
DC Water provided Draft NEPA document to NPS for review and comment, November 2018
NPS provided review comments for the Draft NEPA document to DC Water, February 2019
DC Water updated the Draft NEPA document and resubmitted it to NPS, April 2019
Public review and comment period, June 4, 2019 through August 2, 2019.

There are three ways to comment on the Soapstone Valley Park Sewer Rehabilitation Environmental Assessment during the 60-day public review period from Tuesday, June 4, 2019 through Friday, August 2, 2019:
In person at a public meeting to be held on Wednesday, June 26, 2019 from 6 p.m. to 8 p.m. at the Forest Hills of DC Assembly Hall, located at 4901 Connecticut Avenue, NW, Washington, D.C. 20008.
Online via NPS's Planning, Environment & Public Comment (PEPC) website located here: https://parkplanning.nps.gov/document.cfm?parkID=198&projectID=47855&documentID=96025
By mail for letters postmarked to the following address by August 2, 2019:
Superintendent, Rock Creek Park
Attention: Soapstone Valley Park Sewer Rehabilitation EA
3545 Williamsburg Lane, NW
Washington, DC 20008

Public comment review and reply process started, August 3, 2019
Construction: To be determined
Important Information
DC Water is working in cooperation with the National Park Service (NPS), the lead agency, to prepare an EA for the Soapstone Valley Park Sewer Rehabilitation Project, as required by the National Environmental Policy Act (NEPA).
NEPA regulations mandate that a review period is completed once the EA is made available to the public. At that time, stakeholders, such as Advisory Neighborhood Commissions (ANC), and the public will be notified.
Project Location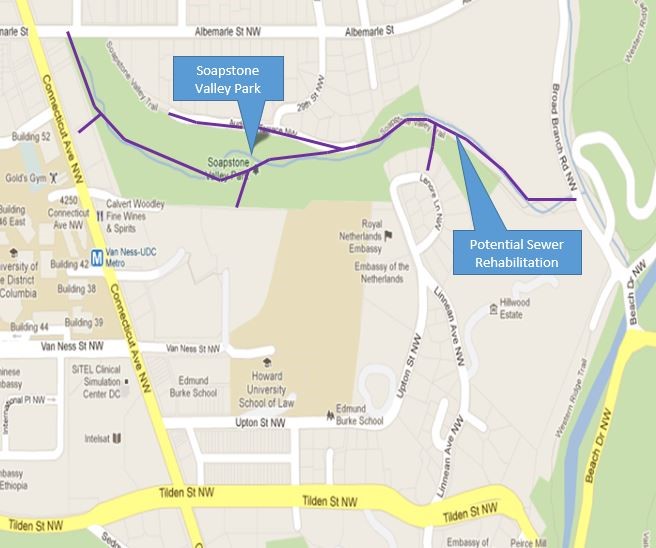 Previous Assement
DC Water assessed creek bed sewers in Soapstone Valley in 2010 and 2011. The Report capturing the assessment results has been referred in the preparation of the NEPA document. See the report below for easy reference. 
Soapstone Valley Creek Bed Sewer Assessment March 15, 2011